The Right Way to Take Ayurvedic Turmeric Supplements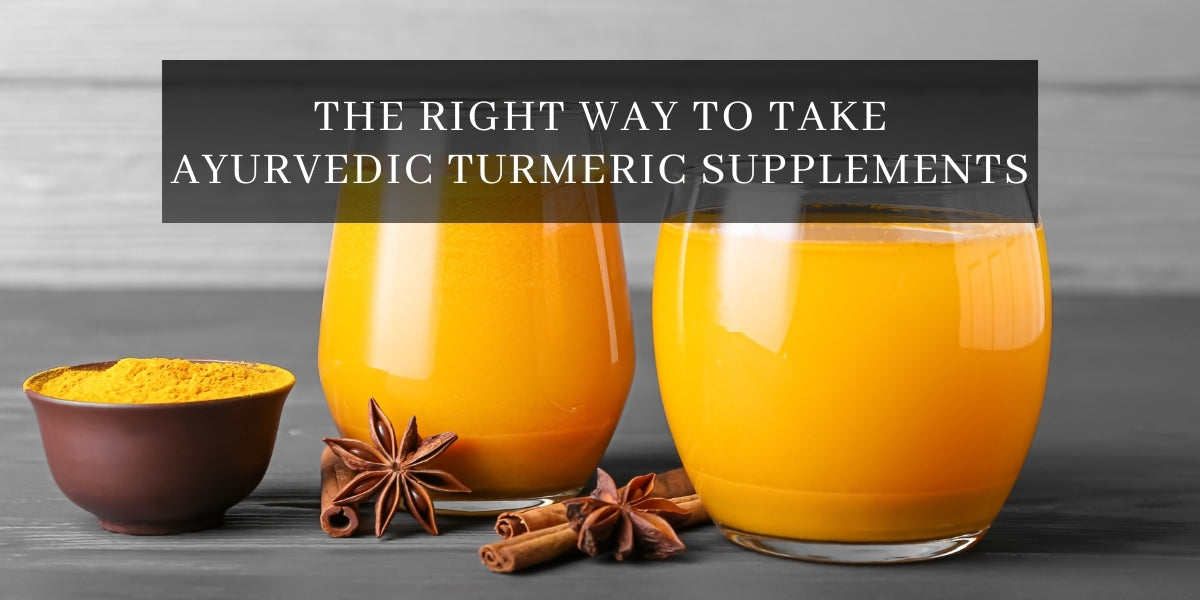 Turmeric is a vibrant yellow spice prevalent in Indian cuisine. It is one of the most popular and commonly used Ayurvedic herbs as well. It has been used for ages to treat a wide range of diseases and is well known for its potent anti-inflammatory and antioxidant qualities.

In this article, we will explore the right way to take Ayurvedic turmeric supplements.
What is Turmeric?
Turmeric, popularly referred to as the "King of Spices," has the botanical name Curcuma Longa and is a member of the Zingiberaceae family. It is a perennial herbaceous plant that grows to a height of 1 meter. The robust underground rhizomes of the turmeric plant are extremely branching, cylindrical, orangish-yellow, and aromatic in nature.

Turmeric is the best immunity booster and revitalizing substance, endowed with a plethora of medicinal characteristics such as antioxidant, anti-inflammatory, anti-fungal, anti-viral, anti-bacterial, anti-mutagenic, and anti-carcinogenic potential.


According to Ayurveda, turmeric smells like Katu (pungent) and tastes like Tikta (bitter). Its Rusksh (dry) quality helps regulate Kapha. Because of its Ushna (hot) nature, it aids in the relief of symptoms of exacerbated Vata. Turmeric also contains a Varnya (good for skin) feature that can help with skin disorders. Turmeric can help with the following ailments when used regularly.
Turmeric can help with inflammation and other blood-related issues.
Turmeric also aids in the management of diabetes by reducing blood glucose levels.
It's antioxidant properties aid in the prevention of diabetes-related problems such as ulcers, wounds, and kidney damage.
Because of its antimicrobial properties, external use of turmeric powder benefits skin issues such as acne, psoriasis, and atopic dermatitis.
Turmeric is important for digestion because of its great digestive properties.
It also helps manage osteoarthritis and rheumatoid arthritis.
Turmeric is highly hepatoprotective and hepatostimulative, which makes it a miraculous cure for jaundice and other liver abnormalities.
The high concentration of flavonoids in turmeric aids in weight loss.
Turmeric includes Curcumin, a potent bioactive component that helps enhance the immune system, combat germs, and protect the body from numerous illnesses. It also has powerful anti-bacterial, anti-viral, and antifungal characteristics, which play a vital role in the prevention of diseases such as fever, the common cold, throat inflammation, and other pulmonary abnormalities.
Turmeric's antioxidative properties make it especially beneficial in treating a variety of cardiac problems.  It strengthens the cardiac muscles and inhibits lipids from accumulating in the blood vessels. Curcumin, a bioactive ingredient, lowers the levels of non-esterified fatty acids (NEFA), thus, lowering the risk of atherosclerosis, heart attacks, heart blockages, blood clots, and other cardiovascular diseases. It is also essential for decreasing cholesterol levels in the blood.
Turmeric is an adaptogen, which means it regulates the body's functions. For example, if you're stressed, it can help you relax, or if you're tired, it can help you revitalize.
What are Turmeric Supplements?
Curcumin, the main active ingredient of turmeric, is a polyphenol with anti-inflammatory qualities as well as the potential to boost the number of antioxidants produced by the body. One of curcumin's major disadvantages is that it is not properly absorbed when taken orally. The curcumin content in turmeric is just approximately 3% by weight. So, if you want to include turmeric in your daily diet for health advantages, you may have to consume a lot of turmeric as a spice.
On the other hand, when ingesting a turmeric supplement, you may get a lot more curcumin into your system in a much smaller quantity. Turmeric supplements may contain up to 95% curcumin by weight. This means that you can obtain significantly more curcumin from a 500mg tablet than by consuming a teaspoon of turmeric powder. Surprisingly, a 500mg turmeric supplement capsule may include up to 400mg of pure curcumin.
Hence, in recent years, Ayurvedic turmeric supplements have gained popularity because of their multiple health advantages. However, they must be taken in the correct way in order to get the maximum benefits out of them.
Maximizing the way we use Turmeric as a Supplement
Combine turmeric supplements with whole turmeric spice: By combining the concentrated curcumin in turmeric supplements with the other beneficial compounds found in whole turmeric spice, you may be able to maximize the benefits of both. For example, you could take a turmeric supplement capsule alongside a meal that includes turmeric as a spice.

Choose high-quality turmeric supplements: Not all turmeric supplements are created equal, and some may contain harmful additives or fillers. Look for supplements that are third-party tested for purity and potency, and choose brands that use organic, non-GMO ingredients.

Incorporate turmeric supplements into a healthy lifestyle: Turmeric supplements should not be relied upon as a cure-all for health problems. Instead, they should be viewed as a complementary addition to a healthy lifestyle that includes a balanced diet, regular exercise, stress management, and other healthy habits.

Discuss turmeric supplement use with a healthcare provider: As with any supplement, it is important to discuss the use of Ayurvedic turmeric supplements with a healthcare provider, especially if you have a pre-existing medical condition or are taking other medications. Your healthcare provider can help you determine if turmeric supplements are safe and appropriate for you and can provide guidance on dosage and potential side effects.
Best way to Take Turmeric Supplements
Here are some ideal methods to consume turmeric as supplements to ensure that your body absorbs as many of its benefits as possible.
Taking Turmeric in Food
Knowing that turmeric contains curcumin, which has anti-inflammatory, antiseptic, and antibacterial properties, add it to your pulses or curries for the best result. You can also add a little turmeric to scrambled eggs and pulaos to make them more flavorful and nutritious.
Adding Turmeric to the Milk
Turmeric and milk have been used for centuries to treat wounds in Ayurvedic medicine. It is generally consumed before bedtime. 
Warm 1/2 teaspoon turmeric in two drops of ghee or coconut oil, and then add the milk.
While you can drink this milk as it is, adding black pepper to it will increase turmeric retention. For sweetness, you may add cinnamon powder and honey.


Turmeric Tea
Turmeric tea is another simple way to incorporate turmeric into your daily diet. Simply make a cup of turmeric tea by boiling a cup of water in a pot and adding 1/4 teaspoon of turmeric powder or freshly grated raw turmeric to it. Let it simmer for a few minutes, then squeeze some drops of fresh lemon juice and a pinch of black pepper powder, and add honey for an exotic flavor. Combining turmeric and black pepper may enhance curcumin bioavailability.


Blend Your Smoothies with a Pinch of Turmeric
Start your day with some power smoothies filled with anti-inflammatory benefits and immune-boosting nutrients. 
Turmeric should be the star of this dish. Add a pinch of this incredible spice to your berry smoothies, mango-peach-coconut water smoothies, strawberry-kale-orange-almond milk smoothies, or pineapple-coconut-chia seed smoothies, and witness how your health improves in just a couple of days.
Taking Turmeric/Curcumin Supplement/Capsule
Turmeric as a culinary ingredient has about 3% curcumin; however, extracts used in supplements or capsules sold in medical stores have 95% curcumin. The World Health Organisation (WHO) recommends a daily intake of 0-3 mg/kg of body weight. Turmeric supplements can be taken to ensure adequate curcumin consumption, but prior to that, never forget to take the advice of your health care professional.
Taking Turmeric as a Shot
Taking a liquid shot containing a high concentration of turmeric supplement is one of the most efficient methods to consuming a turmeric dose. Additionally, if your turmeric shot includes other ingredients such as ginger, you will most likely absorb thiamine, which helps the heart work normally; riboflavin, which helps to alleviate fatigue, and vitamin C, which helps in the regular function of bones and joints.


Consuming Turmeric with Black Pepper
The liver makes certain compounds water soluble, allowing them to pass more easily through our systems. When turmeric is combined with pepper, which contains a compound called piperine, the absorption of turmeric's beneficial molecule known as curcumin is inhibited. It happens because piperine contains drug-inhibiting components. It has been observed that consuming turmeric with pepper enhances absorption by up to 2000%.


Eat with Good Fats
Turmeric is fat soluble, which means it dissolves in fat. Without fats, turmeric struggles to move through the liver and stomach to the small intestine without being properly absorbed. So, by eating turmeric with good fats like avocado, olive oil, or coconut oil, you're more likely to absorb more of it into your bloodstream. This is also why turmeric is usually blended with warm milk—any sort of milk, including coconut, cow, and almond.
Eat Quercetin-Rich Foods
Apples, berries, red grapes, and onions are all high in a plant pigment known as quercetin. This flavonoid inhibits the enzyme that deactivates curcumin. Turmeric's absorbability can be increased by combining it with quercetin-rich foods.



Frequently Asked Questions
1. What is the most effective method for taking a turmeric supplement?


Turmeric should be consumed with food to enhance absorption. It's also beneficial to divide it into two doses between 8 to 12 hours apart. This may help absorb and maintain stable levels throughout the body. Dividing the dosage can also help reduce any negative effects. However, before taking these supplements, you must seek advice from your doctor.
2. Can turmeric be taken on an empty stomach? 
Turmeric is best ingested in the morning. Although it can be taken both in the morning and at night, consuming turmeric on an empty stomach is most beneficial because it helps the body burn excess fat.
3. Is it good to take curcumin supplements with meals or on an empty stomach?
A curcumin supplement should be taken with a meal since it enhances absorption when combined with healthy fats. This also lowers the possibility of gastrointestinal irritation, which may happen when taking curcumin on an empty stomach.
The Final Words:
Turmeric isn't just any ordinary herb - it's a time-tested wonder that has been revered for centuries! Its medicinal properties have been well-documented, and it remains one of the most potent herbs in the world. Whether you're dealing with a constant ache or chronic inflammation, turmeric can be your go-to for relief. It's not just for the sick, though! Even if you're feeling great, incorporating turmeric into your daily routine can help you stay healthy and prevent major illnesses. So go ahead and add a dash of turmeric to your morning smoothie or sprinkle it while you cook your dinner - your body will thank you!
Our Products
OUR BLOGS