Say Goodbye to Allergies: Try this Simple Turmeric Health Drink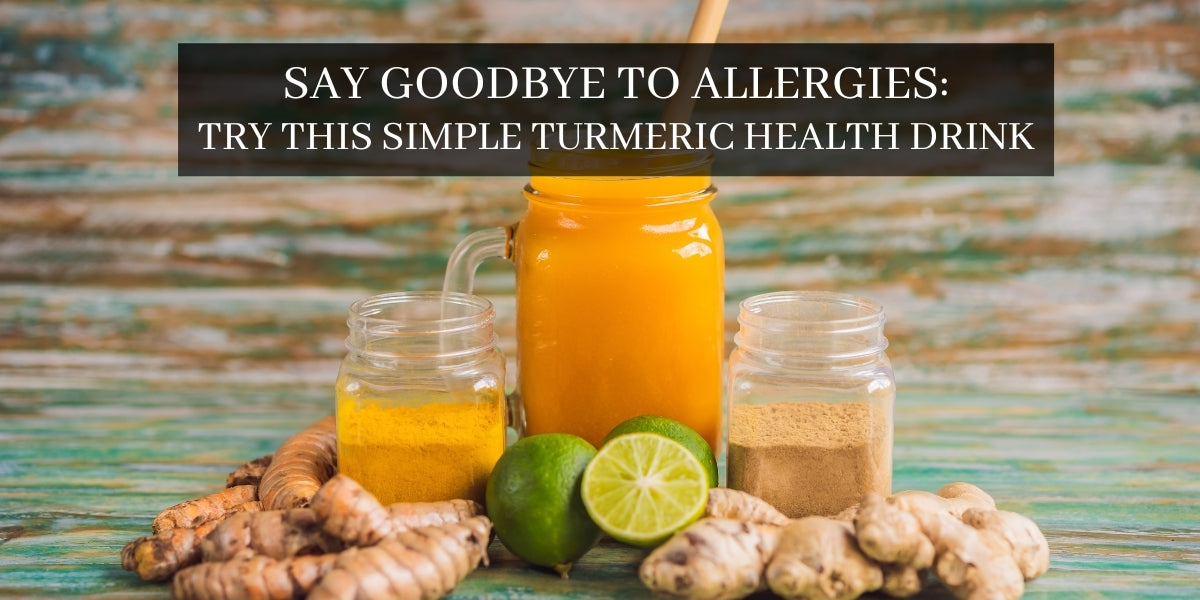 Dust allergies are a common problem that affects millions of people around the world. Allergic reactions to dust can cause a range of symptoms, including sneezing, coughing, itchy eyes, and a runny nose. Unfortunately, dust allergies can be a debilitating condition that can greatly impact your quality of life. 

Are you someone who suffers from allergies or just wants to boost your immune system? If yes, then you need to try this refreshing and nourishing turmeric health drink. This drink is packed with antioxidants and anti-inflammatory and immune-boosting properties that can help alleviate symptoms of allergies and improve overall health. Fortunately, there are natural remedies that can help alleviate dust allergies, such as a turmeric health drink.

Turmeric is a spice that has been used in traditional medicine for thousands of years. It contains a compound called curcumin, which has powerful anti-inflammatory and antioxidant properties. These properties make turmeric an effective natural remedy for dust allergies.
INGREDIENTS:
The recipe for this drink is incredibly easy to make and only requires a few simple ingredients. 
Here's what you'll need:
3 inches fresh turmeric (about 2 Tbsp) peeled and grated
1 1/2 inches fresh ginger (about 3 tsp) peeled and grated
1 medium carrot, chopped
1 lemon, juiced
1 large orange, juiced (about 1/2 cup juice)
1 pinch of finely ground pepper
1 1/2 cups coconut water (or filtered water)
2-3 Tbsp raw honey or pure maple syrup (or to taste)
DIRECTIONS:
If you have a good blender, you can chop the turmeric and ginger. Otherwise, grate it.

Add all ingredients to a blender and blend until all ingredients are pureed.

Taste and adjust honey/maple syrup if needed. Start with the lesser amount, then add more if you like it sweeter.

Serve immediately and enjoy!

This turmeric health drink is not only delicious but also incredibly healthy. Turmeric and ginger are well known for their anti-inflammatory and antioxidant properties, which can help reduce inflammation in the body and boost the immune system. The carrot, lemon, and orange add additional vitamins and nutrients to this drink, making it an excellent source of nutrition.



Benefits:
Not only is this turmeric health drink delicious, but it also comes with several benefits for your health. Here are some of the key benefits you can expect from consuming this drink:
Anti-inflammatory: Both turmeric and ginger contain compounds that have powerful anti-inflammatory properties. These properties can help reduce inflammation in the body and alleviate symptoms of allergies.
Antioxidant: The curcumin in turmeric and the gingerol in ginger are both powerful antioxidants that can help fight free radicals in the body. This can help improve overall health and reduce the risk of chronic diseases.
Immune-boosting: Turmeric and ginger contain compounds that can help boost the immune system. Additionally, the vitamin C in lemon and orange can also help support immune function.
Digestive aid: Ginger is known to be a natural remedy for digestive issues such as nausea, bloating, and indigestion. Consuming ginger regularly may help improve digestion and reduce gastrointestinal discomfort.
Hydrating: The coconut water in this recipe is an excellent source of hydration and electrolytes, which are essential for maintaining proper fluid balance in the body.


This turmeric health drink is not only delicious but also packed with a variety of health benefits. By consuming this drink regularly, you can help reduce inflammation, boost your immune system, support digestion, and improve overall health. So, why not give this recipe a try and see the benefits for yourself?

It's important to note that turmeric may interact with certain medications, so it's always a good idea to consult with your healthcare provider before adding it to your diet. 

In conclusion, dust allergies can be a difficult condition to deal with, but there are natural remedies, such as turmeric health drinks, that can help alleviate the symptoms. Try adding this delicious and healthy drink to your diet to experience the benefits of turmeric for yourself.
Our Products
OUR BLOGS