Unveiling the Effects of Ashwagandha: Enhancing Well-being Naturally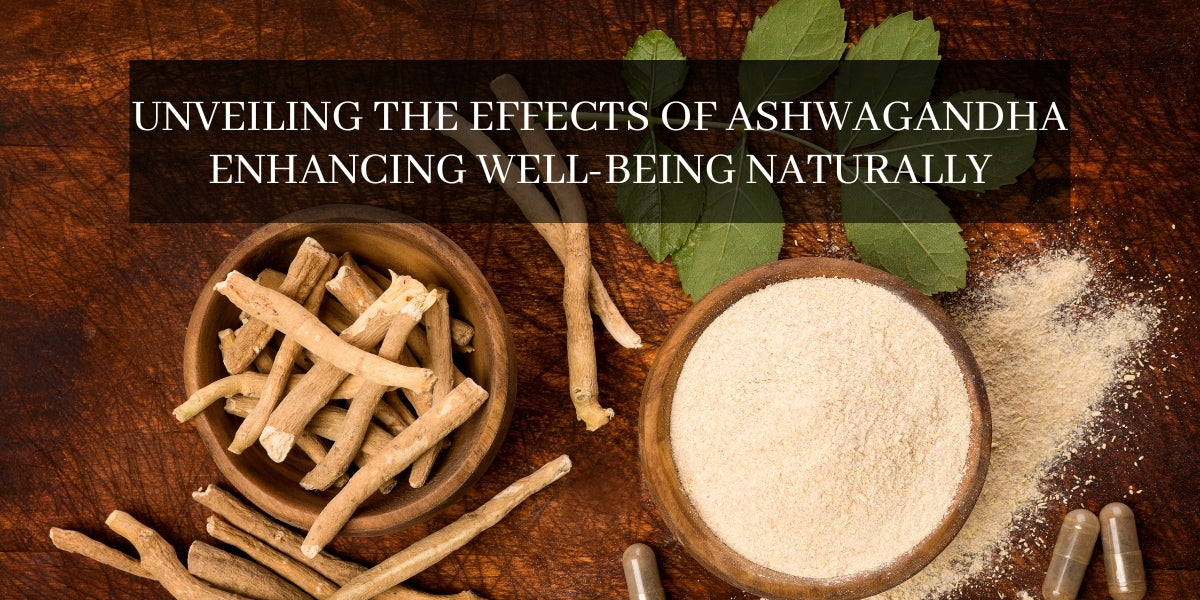 Throughout the ever-changing world of health and wellness, there are certain plants that have consistently intrigued health enthusiasts. One such plant is Ashwagandha, an Ayurvedic herb renowned for its ability to promote overall vitality, mental and physical strength, and restoration. This remarkable herb has captured the attention of individuals from various industries, including cosmetics and nootropics, making it a popular choice among modern consumers.
Scientifically known as Withania somnifera, Ashwagandha is a remarkable adaptogenic herb with a long history. It has profound origins in Ayurvedic medicine, where it has been administered to improve total well-being and balance for thousands of years. The word "Ashwagandha" comes from the word "smell of a horse," referring to the herb's distinct aroma and its very old association with boosting strength and vitality.
In this article, we will explore the different benefits that have made Ashwagandha a beloved elixir for both body and soul.
What is Ashwagandha?
Ashwagandha is a tiny shrub that belongs to the nightshade family. It is typically found in the dry regions of India, Nepal, and China. It is commonly known as Indian ginseng or winter cherry.
Ayurvedic practitioners have also used this herb to treat a variety of chronic conditions, including certain types of cancer, Alzheimer's disease, and anxiety. Ashwagandha also contains anxiolytic qualities that boost energy levels and mitochondrial function. According to Ayurveda, this herb has anti-inflammatory and anti-arthritic properties that are useful in treating rheumatoid arthritis and osteoarthritis.
For thousands of years, Ayurvedic practitioners have utilized Ashwagandha as a rasayana (rejuvenative). It is a well-known adaptogenic herb, which means it helps the body resist physiological and psychological stress by adjusting to the body's needs. Ashwagandha is a superb herb to help nourish general health and well-being because it strongly supports many tissues and bodily systems, including the immune system, the reproductive system, a healthy thyroid, and many more.
Benefits of Ashwagandha
Here are some research-based benefits of Ashwagandha.
1. Help Reduce Stress and Anxiety
Anxiety and stress are regular companions in today's fast-paced society. Fortunately, Ashwagandha comes to the rescue! 
This herb has shown promising benefits in the treatment of stress and anxiety, aiding in the restoration of calm and balance. 
Ashwagandha can provide a soothing embrace in the face of daily pressures by decreasing cortisol levels, the hormone responsible for our stress response.
2. Enhances Cognitive Function
Ashwagandha may help in the improvement of cognition, memory, and the capacity to conduct motor responses following instructions. Studies have shown that Ashwagandha considerably improved participants' responses during cognition and was found to improve participants' attention spans, as well as their immediate and general memory, across various types of tasks.
3. Relieves Symptoms of Anxiety
According to research, Ashwagandha could potentially reduce symptoms of mental health issues such as depression. A study was conducted on 66 individuals diagnosed with schizophrenia and experiencing depression and anxiety. Results showed that taking a daily dose of 1,000 mg Ashwagandha extract for 12 weeks led to significant reductions in levels of depression and anxiety.
According to a 2021 review, Ashwagandha may help with depression, anxiety, sleeplessness, and other mental health and neurological disorders.
 
4. Improves Athletic Performance
Ashwagandha works as an adrenal tonic, reducing chronic fatigue and improving overall well-being. Its adaptogenic characteristics aid in healing, metabolizing energy, making testosterone, and sustaining energy levels throughout the day. 
Ashwagandha additionally helps in muscle recuperation and growth, making it particularly advantageous for those looking to improve their athletic performance and muscular mass.
 
5. Boosts Fertility and Testosterone Levels in Men
Some research has demonstrated that Ashwagandha supplements improve male fertility and increase testosterone levels. Furthermore, the research discovered that Ashwagandha administration significantly enhanced sperm concentration, volume, and motility in men with low sperm counts. In males with normal sperm counts, it also enhanced sperm concentration and motility.
6. Promotes Anti-Aging Process
Ashwagandha is known as a Rasayana or tonic in Ayurveda for its ability to revitalize and restore the body's inherent vigor and energy. This antioxidant-rich botanical marvel battles the harmful effects of time by protecting your body from free radicals that promote aging.

The capacity of Ashwagandha to reduce inflammation and increase collagen formation improves skin suppleness, giving you a beautiful, young glow. Its potent anti-inflammatory, neuroprotective, anticancer, anti-arthritic, and anti-inflammatory capabilities also aid in reducing oxidative stress on cells and promoting repair and regeneration, hence preventing premature aging.
7. Enhances Your Sleep Quality
Many people use Ashwagandha to encourage sound sleep, and there is some evidence that it may help with sleep problems. 
A study on people aged 65 to 80, found that consuming 600 mg of Ashwagandha root every day for 12 weeks dramatically enhanced sleep quality and mental alertness upon rising. Furthermore, one assessment of five high-quality research discovered that Ashwagandha appeared to:
Have a minor but significantly favorable influence on total sleep quality
Lower anxiety levels
Help people feel more aware when they wake up
8. Boosts the Body's Overall Immunity
A healthy immune system is dependent on an appropriate balance of immune cells and compounds. Ashwagandha contains a high concentration of antioxidants, which help fight free radicals and minimize oxidative stress. Ashwagandha protects immune cells from harm and promotes their optimal function by neutralizing these toxic chemicals.
As an adaptogenic herb, Ashwagandha aids in the restoration of equilibrium between the immunological and neuroendocrine systems, allowing the body to recover more quickly in stressful situations and boosting function against foreign viruses and bacteria.
 
9. Improves Heart Health
Ashwagandha benefits cardiovascular health in a variety of ways. It calms and nourishes the neurological system, helps in stress reduction, and reduces inflammation, lowering the stress on the heart. It also aids in the reduction of systolic blood pressure and increases VO2 max levels (the highest amount of oxygen you can inhale when exercising), promoting cardiorespiratory endurance and general heart health.
Ashwagandha and Its Uses
Here are several common forms of Ashwagandha and its uses.
1. Powder: One of the most popular forms of Ashwagandha is the powder form, which is made from dried Ashwagandha roots. It's simple to include in beverages like water, milk, or smoothies. Begin with a low dose and gradually increase it as needed. It can be taken on a regular basis as a dietary supplement or during certain health issues.
2. Capsules: Ashwagandha capsules include powdered or extracted forms of the root and are an easy way to ingest it. Capsules typically come in standardized quantities, making it easier to track intake. Follow the dosing instructions on the product label or visit an Ayurvedic professional.
3. Liquid extract: Ashwagandha is available as a strong and potent liquid extract. A few drops of the extract can be mixed with water, juice, or your favorite beverage.
4. Tea: To make Ashwagandha tea, soak dried Ashwagandha roots or leaves in boiling water. The flavor of this herbal tea is subtle and earthy. It can be used alone or combined with other herbs or teas to increase flavor and have beneficial effects.
Effects of Ashwagandha on Bone Cells and Tissue
Here are some of the effects of Ashwagandha on bone cells and tissues.
Stimulation of Osteoblast Activity:
 
Osteoblasts are responsible for bone formation. Some studies suggest that Ashwagandha extracts may stimulate osteoblast activity, resulting in increased bone formation. This has the ability to help with bone development and growth.

Increased Mineral Deposition:

Ashwagandha has been shown to improve the distribution of minerals in the structure of bones. This mineralization process is critical for bone strength and density, both of which play a role in height growth.
How Much Ashwagandha Should be Taken Per Day?
The normal Ashwagandha dosage ranges from 300 to 500 milligrams twice daily. However, dosages may vary according to your age, health condition, and how well you respond.
 
It is recommended to start with a smaller dose and gradually increase it as required. You can also seek the advice of a healthcare professional to find the best dosage for your specific needs.
Frequently Asked Questions
1. What are the benefits of Ashwagandha?


Some of the advantages of Ashwagandha include:
It helps reduce stress and anxiety
Enhances Cognitive Function
May reduce symptoms of some mental health conditions
Improves athletic performance
Boosts fertility and testosterone levels in men
Promotes anti-aging process
May help improve sleep 
Boosts the body's overall immunity
It improves heart health
2. What are the safety precautions to be followed while taking Ashwagandha?
Women who are pregnant or breastfeeding should consult with their doctor before taking Ashwagandha. People who have specific health conditions or are taking medications should consult a doctor before beginning Ashwagandha supplements.
The Takeaway
In a world filled with stresses and demands, Ashwagandha stands out as an ancient treatment that has withstood the test of time. It's no surprise that Ashwagandha is gaining popularity among wellness fans due to its great benefits in stress alleviation, cognitive enhancement, immune system support, and physical stamina.
Our Products
OUR BLOGS