Stay Healthy This Winter With These Supplements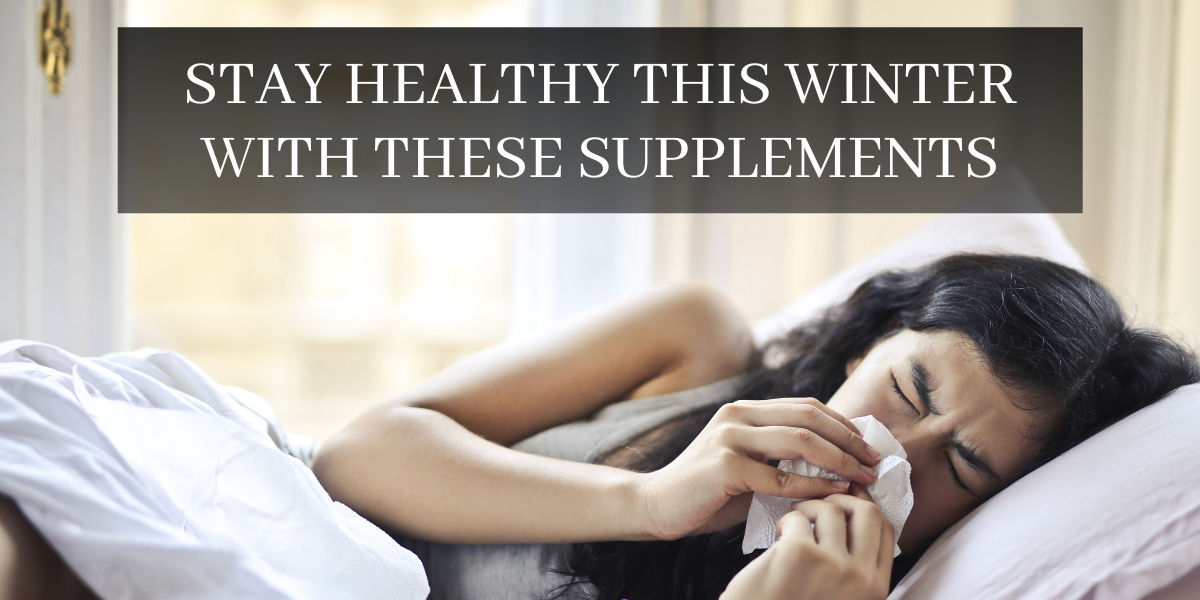 Winter is a wonderful time of year, filled with holidays, celebrations, and crisp weather. But for many, it also means an increased risk of getting colds and flu. In this blog post, we will explore how to stay healthy and strong during the winter months by discussing the use of various immunity supplements that can help prevent cold and flu. 
Whether you're looking to enjoy the holiday season with family and friends or simply want to make it through the winter without getting sick, this post will provide valuable information to help you achieve your goals. Read on to find out how you can improve your immunity this winter season and remain in your best health.
Why Do People Get Sick In The Winter?
Viral diseases are highly unpredictable and can affect people regardless of the temperature and season. Still, some data suggests that humans are more likely to get colds and flu during the winter.
Although not many studies can provide conclusive evidence as to why these viral diseases are so prevalent during the winter, some researchers have highlighted several reasons that might be responsible.
Firstly, they say that the lack of direct sunlight is one of the reasons for the propagation of flu and cold-causing viruses to linger in the air during the winter months. During summers, the sun's rays are much stronger and kill many disease-causing organisms in the atmosphere. It is one of the reasons why people fall sick more often during the winter months.
Secondly, viruses and bacteria survive longer in cold temperatures than in warmer temperatures. Since the winter months are dry and lack humidity, virus transmission happens aggressively. 
Many healthcare professionals have suggested several best supplements for immune boosting during the winter to fend off these everyday ailments.
How To Boost Your Immune System For Winter Season?
Let's look at some of the best natural herbs that can boost your immune system during the winter.
1. Tulsi
Also known as holy basil, this fantastic herb is packed with vitamin C and zinc, which makes it a natural immunity booster. Studies have found that tulsi leaves are a great way to prevent cold and flu-causing infections. 
Tulsi leaves have several antibacterial and antiviral properties, which are especially helpful during the winter. When mixed with honey, it can help protect us from respiratory diseases, including influenza, sore throats, and chest congestion.
2. Cinnamon
Although cinnamon is primarily known as a spice, it is also recognized for its various health benefits. It is referred to as a "wonder spice" due to its ability to provide numerous benefits to overall health. The main component of cinnamon is cinnamaldehyde, which is proven to prevent many fungal and bacterial infections. 
Cinnamon oil is incredibly potent against respiratory infections. Some preliminary studies suggest that cinnamon can protect us from colds and viral diseases like flu and influenza.
3. Ginger


Ginger is another magic ingredient that can act as an immune support supplement for the winter months. Ginger is loaded with antioxidants, which help eliminate the disease-causing free radicals that damage body cells. 
Additionally, ginger juice is an excellent remedy for sore throats and gum diseases. Fresh ginger is effective against the respiratory syncytial virus, a common respiratory ailment during the winter months.
4. Black Pepper


Another spice that can act as an immune supplement during the winter is black pepper. Adding small amounts of black pepper to food items can help your body better absorb the nutrients in the food and boost the digestion process. 
You can mix black pepper with herbal teas to relieve cold and flu symptoms. Black pepper can also be combined with a tablespoon of honey to help clear chest congestion.
5. Ashwagandha


Also commonly known as "Indian ginseng," this popular herb is a great immune support supplement for the winter months. Ashwagandha, in general, has some properties that prevent the escape of the body's natural heat. It helps keep you warm from the inside. 
Ashwagandha helps the body produce more white blood cells, which helps it fight diseases better. Ashwagandha also has several antioxidative properties, which are essential for promoting overall health.
6. Amla Fruit Extract 
Amla fruit is naturally available during the winter. It is one of the best sources of vitamin C, which protects against winter ailments like coughs and improves respiratory immunity. 
Amla juice enhances metabolism, which helps boost the natural immunity necessary to fight disease-causing bacteria and viruses.
7. Giloy Root Extract


The health benefits of Giloy root have recently been discovered, with many studies suggesting that it is rich in alkaloids and terpenoids. The terpenoids in Giloy root make it a tremendous immune-boosting supplement for the winter months. 
These terpenoids have several antibacterial and antiviral properties that help fight the disease-causing cold and flu viruses during the cold months. Also, Giloy root extract helps clear our respiratory tract, so we can breathe better.
8. Chiretta Root Extract


The chiretta herb is another great herb to fight the winter flu season. The chiretta root extract has antiviral properties, perfect for avoiding common respiratory infections that plague during the winter. Additionally, chiretta is packed with antioxidants, which help our body get rid of disease-causing free radicals, making us more immune.
9. Turmeric Extract


Turmeric is one of the best herbs to cure sore throats and coughs caused during the winter. Just add some good-quality turmeric extract to warm milk, and you have a delicious drink that not only cures ailments but is also good to taste. The antibacterial and anti-inflammatory properties of turmeric make it potent against minor illnesses caused during flu season.
Now that you know the natural herbs and their health benefits, you can start including them in your diet. But this is where the real problem arises. Hectic modern life does not let us have the time and effort to consume these immunity-boosting herbs. You can try out some ready packs available in the market.
Santhigram Herbals provide herbal immunity supplements made with natural products that help boost your immunity.
Best Supplements for Immune Boosting
Here are some immunity support supplements that have herbs to boost your body's natural defense system.
1. Santhigram Herbals Immune Recharge 
Try out the popular Santhigram Herbals Immune Recharge, which is the perfect blend of all the herbs needed to boost your immunity. This immunity supplement is crafted with a premium blend of vegan-friendly ingredients and will help you fight off the common cold and flu and provide you with all-day energy. We at Santhigram Herbals ensure that our products are natural and GMO-free and are also available in an easy-to-swallow pill form.
2. Santhigram Herbals Lung Recharge 
Try out the popular Santhigram Herbals Lung Recharge, which is a unique combination of high-quality Ayurvedic herbs that are known to naturally support and protect your lungs. Lung Recharge's powerful herbal formula consists of 12 different herbs, each with different benefits for your respiratory system. We at Santhigram Herbals ensure that our products are natural and GMO-free and are also available in an easy-to-swallow pill form.
3. Santhigram Herbals Turmeric Curcumin 
Turmeric Curcumin is another popular immunity supplement by Santhigram Herbals that has all the excellent benefits of turmeric root. This vegan-safe supplement is packed with antioxidants and anti-inflammatory properties. It is a great way to protect against cell damage and disease. The Turmeric Curcumin by Santhigram Herbals also helps stimulate liver function, supports heart health, and aids overall digestion.
Frequently Asked Questions


1. What supplements should I take during winter?
The Santhigram Herbals Immune Recharge is a great natural immunity supplement that can be taken during the winter to protect yourself from cold and flu symptoms. Santhigram Turmeric Curcumin is an excellent supplement for people looking for extra protection during the winter.
2. How can I boost my immune system immediately?
Maintaining a healthy lifestyle that includes regular exercise, proper nutrition, and adequate immunity supplements can boost your immune system.
3. Which food boosts the immune system fast? 
Food items like turmeric, tulsi, amla, ginger, etc., are packed with immunity-boosting ingredients. Including them in your diet can help boost the immune system.
Concluding Thoughts
The winter season can be challenging for some people, as it tends to bring a range of illnesses and ailments. However, it should not stop you from enjoying the winter months and all that it has to offer. There are many effective supplements that can help boost your immunity and defend yourself against these winter ailments. By incorporating these supplements into your daily routine, you can stay healthy and active during the winter and enjoy the season without having to worry about falling ill.