Turmeric For Arthritis: An Evidence-Based Herbal Remedy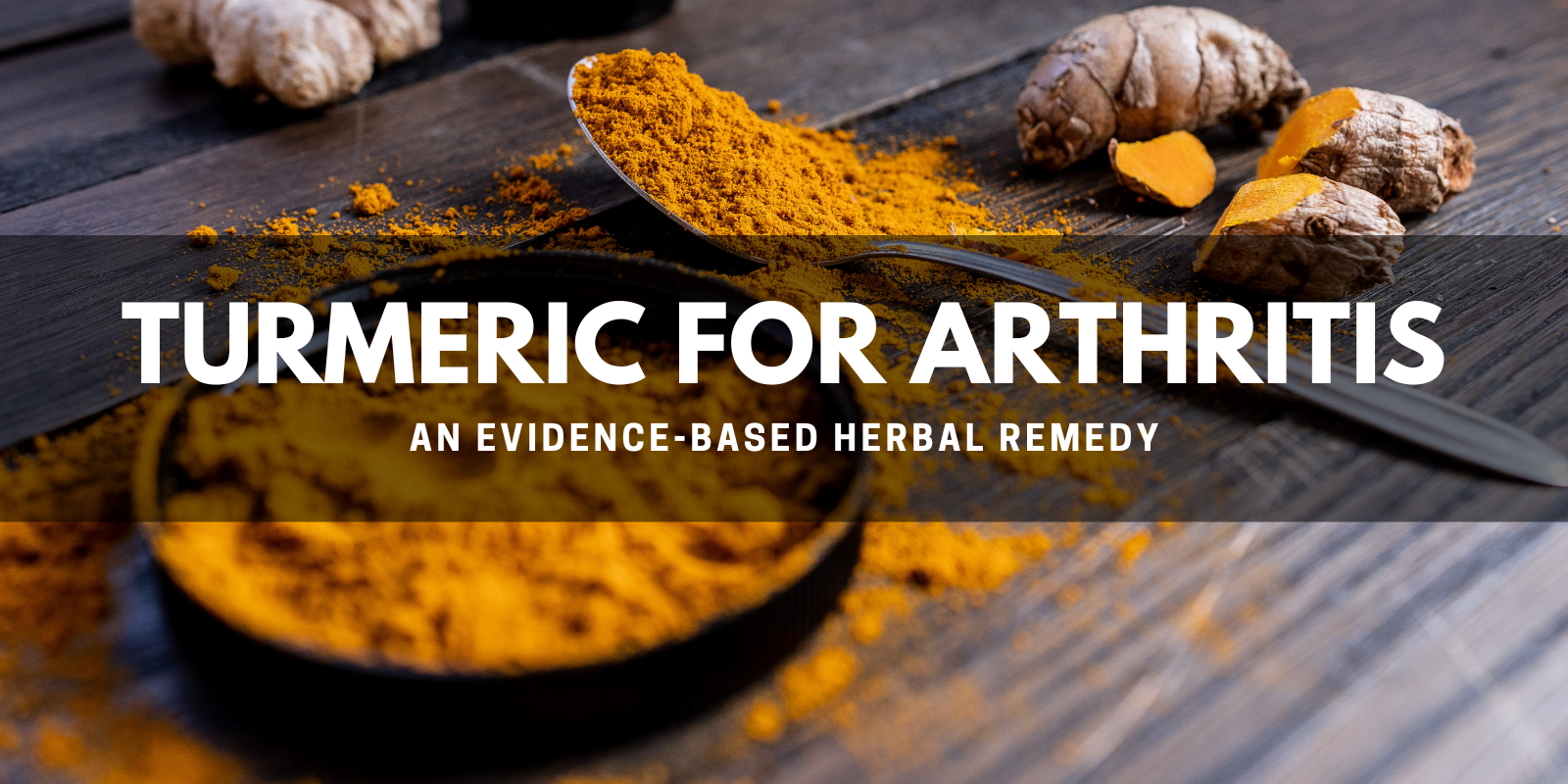 Arthritis is a condition characterized by joint pain and inflammation, and its exact cause is unknown. Treatments have focused on treating pain, but there is no treatment addressing the root cause of the condition. The only available treatment for arthritis focuses on reducing pain and has little effect on improving overall health or quality of life.
The most common medications for arthritis are pain relievers, corticosteroids, and anti-inflammatory drugs (NSAIDs). They reduce symptoms such as severe pain and inflammation. However, in the long term, these medications can lead to inadequate pain relief, immune disturbances, and severe gastrointestinal and cardiovascular side effects.
Therefore, there is a need for an effective anti-inflammatory remedy for arthritis that offers fewer or no side effects. Curcuma longa and Zingiber officinale are two herbs that have been used for centuries as remedies for inflammation in Chinese and Ayurvedic medicine. Available evidence suggests that turmeric therapy may be as effective as NSAID therapy for pain, and it functions with no serious side effects. 
This article is about why most common treatments for arthritis may prove harmful in the long run and what you can do to cure it naturally.
What is Arthritis?
Arthritis is a common, debilitating joint disorder that affects many people. It frequently leads to pain in the joints due to inflammation. There are different forms of arthritis such as osteoarthritis, rheumatoid arthritis, and various autoimmune diseases. Though there are many types of arthritis, they all mostly share similar symptoms and treatment approaches.
Inflammation is a significant factor causing the development of osteoarthritis. Researchers and clinicians believe reducing inflammation can help relieve arthritis.
People frequently seek medical attention because of the pain experienced with osteoarthritis. Having an alternative is a welcome remedy because medications like NSAIDS might have unfavorable side effects. Even studies indicate a high incidence of drug-related problems during rheumatoid arthritis treatment.
Curcumin for Arthritis - How Does it Work?
Known for its anti-inflammatory and antioxidant qualities, curcumin has a number of health benefits.
Anti-inflammatory Properties of Turmeric
Turmeric is a spice from the ginger family that is widely used in Indian and Asian cuisine. The active ingredients of turmeric, curcumin, make up around 3 to 10% of the powder and has anti-inflammatory characteristics similar to those of NSAIDs.
It's not turmeric itself, but rather its active chemical curcumin, that inhibits inflammation. Studies show that curcumin blocks certain enzymes and cytokines involved in the inflammatory response. This suggests that we can use it as an alternative therapy for rheumatoid arthritis.
Antioxidant Property of Curcumin
Some or all painful arthritis inflammation may be caused by free radicals in the body, unstable molecules, or atoms missing an electron. Free radicals occur naturally, but consuming foods that are high in antioxidants can help protect against oxidative stress and inflammation associated with arthritis.
The antioxidant potential is the ability to neutralize free radicals in the body. The body's defense mechanisms often require support to prevent oxidative stress. Data from several studies suggest that curcumin, a compound in the spice turmeric, has significant antioxidant activity. 
Safety Considerations of Turmeric
A 2012 study has revealed that curcumin is as effective as diclofenac in patients with knee osteoarthritis. It was also found that curcumin is tolerated better than diclofenac, which is a non-steroidal anti-inflammatory drug (NSAID).
Curcumin is safe when taken in the recommended dosage. However, drugs like ibuprofen, when taken in excess, can cause serious side effects, including convulsions and coma.
However, curcumin may interact with medications. This can lower the effectiveness of your prescription drugs, and it can also impact your health if you have any underlying medical condition.
Turmeric and curcumin supplements may interfere with blood coagulation, so those taking blood thinners should speak to a doctor before taking them.
How to Use Turmeric for Joint Pain Relief?
Turmeric can be added to your diet in many ways. In fact, it is considered safe even in high doses. Curcumin has poor bioavailability, so you may need to take a higher dose to attain the required amount. You get various turmeric and curcumin products in the market, including whole turmeric root, tea bags, and curcumin supplements.
1. Add it to Your Daily Diet
Turmeric powder can be added to your curries, smoothies, or salads for a nice color and flavor. Just remember to add a little black pepper with it to improve its absorption. 
2. As a Herbal Tea
You can buy commercially available turmeric tea or make turmeric tea at home. Adding some turmeric and black pepper to your herbal tea can help your body get the needed curcumin.
3. With Warm Milk
Turmeric milk has several health benefits. Along with anti-inflammatory properties, warm milk soothes your body and helps you feel relaxed.
4. Go for Supplements
Supplements are the best option if you want to maximize the health advantages of curcumin. Most curcumin supplements contain black pepper extract, which enhances its absorption. 
Dosage: When selecting a curcumin supplement, check to see how much of the active ingredient is standardized into each capsule. Generally, 500 mg twice a day is advised. Look for brands that use phospholipids (Meriva, BCM-95), antioxidants (CircuWin), or nanoparticles (Theracurmin) to improve absorption.
It is essential to consult your healthcare provider about the dosage of these supplements and possible side effects.
Bottom Line
Even though turmeric is a common spice found in many household kitchens, few people are aware of its alleged health benefits. The condiment's anti-inflammatory properties make it a potential treatment for a number of health conditions, including osteoarthritis. But there's so much more; we're only just now beginning to learn about turmeric's health effects. And luckily, turmeric is an affordable spice readily available in your local grocery store or Asian food market.
If you're looking for a natural curcumin supplement with the highest bioavailability and best results, pick Turmeric Curcumin from Santhigram. It's 100% natural and safe to ingest, giving higher absorption. 
Click here to buy our Turmeric Curcumin product