Office Syndrome - Stay Healthy and Productive While You Work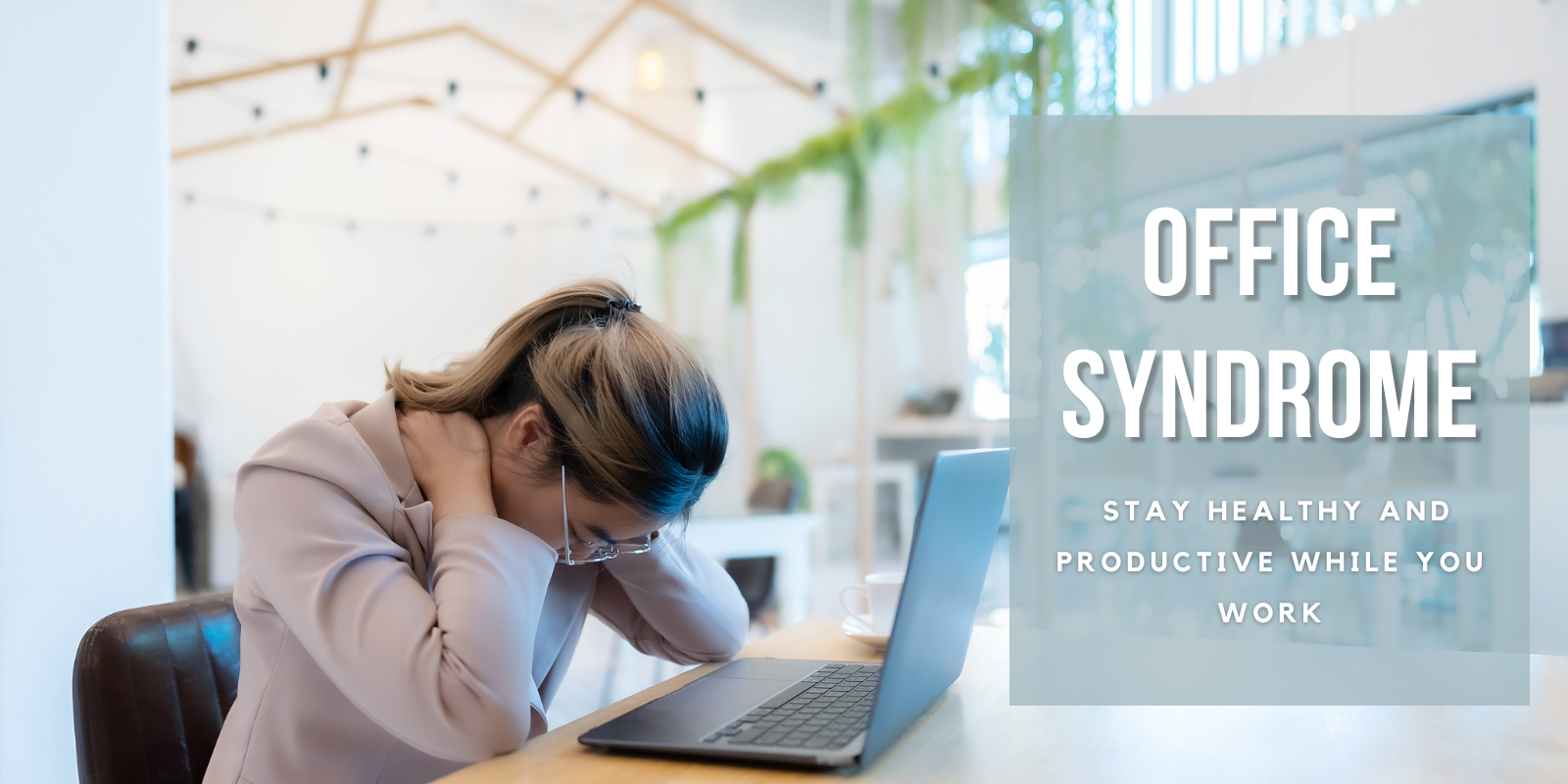 Most city-dwellers lead sedentary lifestyles, spending hours each day sitting at their desks in front of computer screens. Initially, this may not sound like an unhealthy way of living. But for many, this leads to various musculoskeletal disorders, also known as office syndrome resulting in serious health consequences. 
With such a work culture, we hardly walk or move around. Also, due to the excessive use of mobile phones, we tend to tilt our heads, leading to frequent neck pains. By massaging the muscles of your back, neck, and shoulders, you can temporarily relieve pain caused by myofascial pain syndrome. But if you fail to correct your posture, this may become chronic, damaging your musculoskeletal system.
So, it is essential to be aware of office syndrome, as it affects you and the people around you. Here is a blog post about this condition, its symptoms, and some tips for preventing it.
What is Office Syndrome?
Cervical myofascial pain or office syndrome is a musculoskeletal disorder that causes pain in the area of a cervical muscle and its surrounding connective tissue. This disorder is frequently found in office workers working on computers for long periods.
Pain and soreness in your back and neck that you experience can be symptoms of a more serious problem. Left untreated can lead to chronic pain and even spinal abnormalities. Your posture and ability to move normally may also get affected.
Office Syndrome Symptoms
Office syndrome is a group of symptoms that includes inflammation of the muscles in your neck and shoulders. 
Symptoms include;
Continuous dull aching pain in your back and neck

Headaches

Dryness in eyes

Feeling of dizziness while turning the head

Arms or neck numbness, goosebumps, or hyperesthesia

Fatigue

Depression
Some people who suffer from Office Syndrome may also be plagued by emotional symptoms like sadness, depression, and extreme tiredness.
What Causes Office Syndrome and Who is at Risk
Our modern workspace needs less physical activity. We live in the digital age, and most documents we create are computerized. Office Syndrome is caused by repetitive use of certain muscles for prolonged periods in an unhealthy posture.
A poor working environment can lead to back problems. Improper desk height and wrong positioning of the computer and keyboard can cause people to sit in an awkward position. Sitting hunched over or slouching causes constant muscle contraction, eventually weakening core muscles.
Additionally, working without adequate rest breaks has been linked to a higher likelihood of work-related musculoskeletal disorders. When muscles are overworked, trigger points—tiny, painful knots—develop. Trigger points can be found in the center of a muscle or at the ends of its fibers. These result in referred pain and tenderness in muscles,
Other possible causes of office syndrome include stress and lack of sleep. Physiological problems, such as muscle imbalance or spinal deformity, might also play a part.
Though this syndrome can affect anyone, people working in the office are at a higher risk. Inappropriate posture can also cause myofascial pain syndrome in people who engage in sports. People working as chefs, bakers, and driers may also face this syndrome. 
How to Prevent Office Syndrome
Office Syndrome can be prevented by taking these steps:
1. Make Ergonomic Modifications in Your Workplace
Set up your computer so that your mouse and keyboard are directly in front of you at a comfortable distance and with your arms adequately supported. The screen should be slightly below your line of sight so that you don't have to look up or down to see it clearly.
Good posture is also essential. Sit up straight with your shoulders rolled back. Your foot should rest on the floor, and your knees should be bent at 90 degrees.
2. Take Regular Breaks While Working
As you work at your desk, get up and move around every 1-2 hours. Change your sitting position to help prevent muscle fatigue and bad posture. You can change the angle of your seat and avoid sitting at the edge of the seat. In addition, moving around regularly during work allows your eyes to rest. 
3. Practice Stretching Exercises
To protect your body against repetitive strain injuries, it is essential to exercise. Your exercise routine should include stretching and strengthening exercises that maintain core muscle groups and improve posture.
You can lessen mental stress and relax your body by performing relaxation exercises and yoga.
4. Give up On Excessive Screen Time
Make sure to avoid using mobile phones and tablets for extended periods of time. Doing so could damage your eyesight, and the continuous use of these gadgets can also cause additional strain around your neck and shoulders. Increased screen time before bedtime also affects your sleep quality. 
How to Treat Office Syndrome
Office syndrome is curable, but it may take some effort on your part. In addition to making lifestyle adjustments both at work and at home. A specialist can help guide you through these steps.
If you're in a lot of pain and your muscles are always sore, look for professional help. You can also try adding turmeric to your diet or taking supplements made from turmeric to help reduce inflammation and pain. To get the best organic turmeric supplements
click here
.
Also, practicing Yoga can help you relax, release tension and improve your posture. Yoga postures that target areas of tension can be an effective antidote to many desk-job ailments—including back pain, neck aches, stiff shoulders, and sore hips. And if you need some stress relief, yoga may help address the damaging effects of a high-pressure job by helping to calm the mind and quiet racing thought patterns.
Office syndrome is the leading cause of unproductivity in offices around the world. To avoid this, you must follow the right preventive measures. 
Final Words
If you spend your days in front of a computer, especially at a desk job, you could be on your way to developing some of the symptoms that define office syndrome. Fortunately, there are some simple lifestyle changes like practicing yoga, and taking natural supplements that will not only improve your health but also help you feel more energized and more focused during the workday. 
Don't let your work schedule get in the way of your health. Prevention is easier than cure.
Click here to buy our Turmeric Curcumin product