Best Herbs To Improve Female Vitality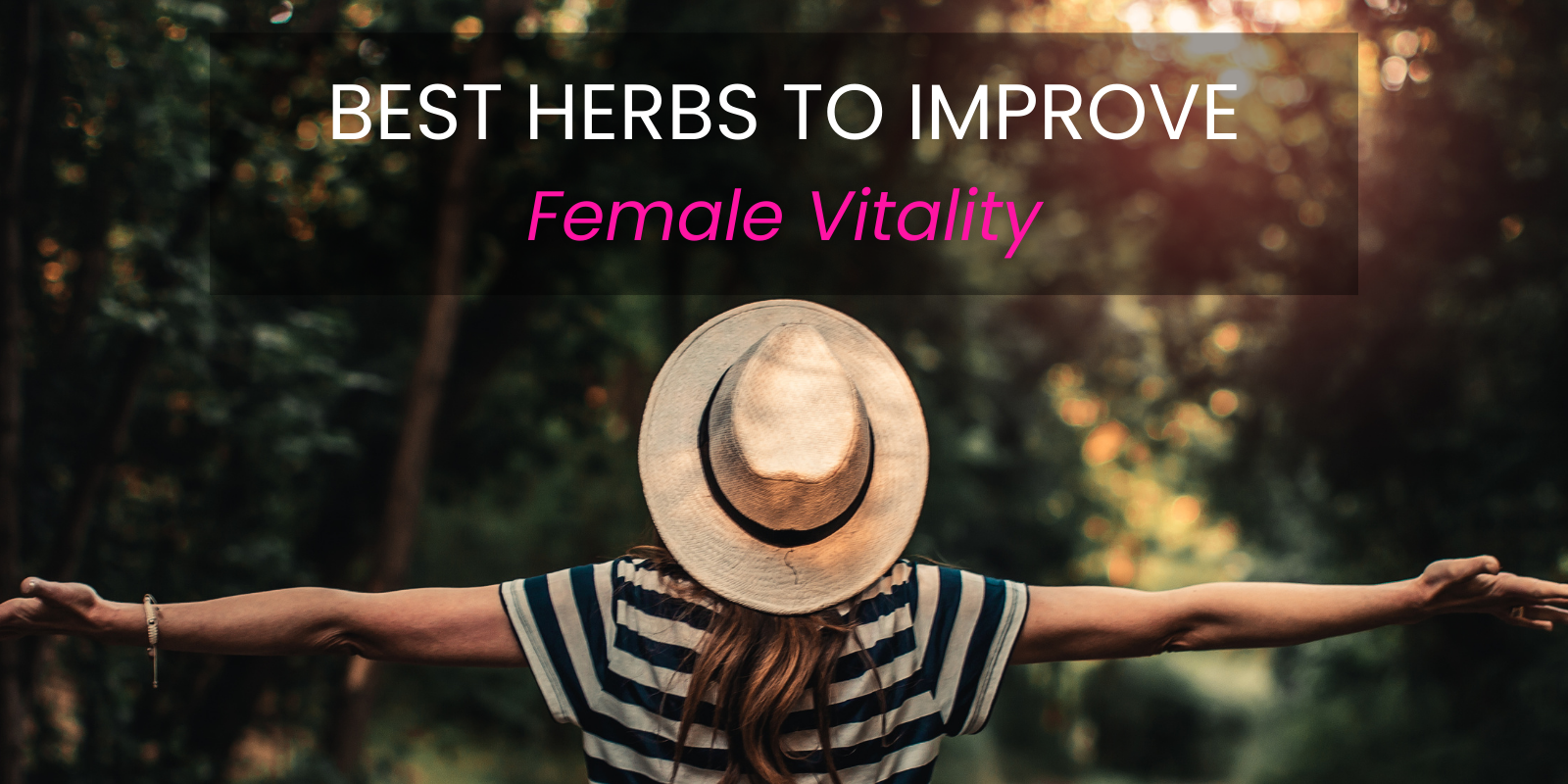 It is not what you look like that makes you feel beautiful or healthy. Instead, your energy and sense of inner health define how you perceive yourself. With aging and multiple pregnancies, many women feel worn down and tired. They don't feel youthful or vibrant anymore.
Various coping ways can help you feel more lively. This article will explore some of those methods and talk about how herbs help improve female vitality. You will also learn some home remedies that can help lift your spirits!
What is Female Vitality?
Female vitality or feminine wellness is a state of being healthy, energetic, strong, and resilient. It's about being in balance with your body, mind, and spirit so you can express your true self. It's not just about having the energy to get through your day—it's having the strength to overcome challenges when they come along. 
Additionally, female vitality means feeling calm and peaceful regardless of what happens around you or within you.
Common Causes of Women's Fatigue
Balancing family and work requirements can be enough to make you crave a nap. Before you go looking for your missing motivation, here are some common reasons it could be missing: You're tired, and there's a reason why.
Unhealthy diet-

Eating unhealthy foods with lots of added sugar can make you feel tired, sluggish, and irritable.

Poor sleep-

When you don't get enough sleep, it can make you feel tired.

Stress-

Stress can leave you exhausted and negatively affect your quality of life.

Dehydration-

Even mild dehydration can make you feel tired, sluggish, and drained of energy.

Obesity-

It greatly increases your risk of obstructive sleep apnea, which can severely impact your daily energy level.
Besides these, some medications, a sedentary lifestyle, drug or alcohol dependence, and shift work may all contribute to your fatigue.
Top 5 Herbs for Female Vitality
When it comes to women's health, herbs are often overlooked. Several Ayurvedic herbs possess a range of health benefits, such as weight loss, healthy skin, and improved vitality. Here are the top 5 herbs for female vitality;
1. Asparagus Racemosus or Shatavari
Racemosus is a well-known Ayurvedic Rasayana that is believed to help prevent aging effects, increase longevity, and improve mental function.
In Ayurveda, this herb is considered a female tonic. In spite of being a rejuvenating herb, it is beneficial for female infertility and postpartum issues like low milk supply, normalizing the uterus, and changing hormones. Also, it is believed to be the best herb for women's reproductive health.
Shatavari is helpful for women of all ages, including teen girls having their first periods, pregnant women, and women who are breastfeeding. It can also help reduce stress and keep inflammation in check, which makes it a great female vitality herb.
2. Tribulus Terrestris
Tribulus Terrestris is known for its reputation as a wellness booster. Many people focus on its effects on male sexual health, but it also benefits women's sexual health, moods, and urinary tract health.
Tribulus Terrestris supports female vitality and acts as a herb for an energy boost in the following ways;
Helps boost sexual desire -

Studies

have shown Tribulus can be considered an effective treatment for female sexual dysfunction.

May Improve your energy -

It may help you feel more energized by increasing the amount of oxygen available to your cells through its

antioxidant properties

.

Supports your mood -

The herb Tribulus Terrestris can help you deal with stress, anxiety, and mood swings. This is especially helpful for women who have to deal with the physical and emotional symptoms of

premenstrual syndrome (PMS)

.
3. Curculigo Orchioides
Kali Musli, also known as Curculigo Orchioides, is an endangered Rasayana herb popularly used in Ayurvedic medicine. The herb is native to India and holds a special position as an adaptogen and aphrodisiac. This means it helps improve your sexual desire.
This herb has been used for thousands of years in Ayurvedic medicine because it's believed to have powerful healing properties that can improve female vitality and promote fertility.
4. Withania Somnifera or Ashwagandha
It's been shown that stress can negatively impact a woman's sex drive and ability to become aroused. Chronic stress, anxiety, and fatigue can also lead to sexual pain disorders. Excessive stress can cause cortisol levels to rise in the body, which in turn is associated with sexual dysfunction.
Ashwagandha, a popular herb used for centuries in India, is touted as an "adaptogen" that protects your body from stress and helps it recover from stress. Ashwagandha can help you deal with chronic stress by reducing your cortisol levels and restoring your healthy adrenal function, making it easier to deal with stressful situations.
5. Commiphora Mukul
Commiphora Mukul is an Ayurvedic herb that helps balance female hormones by acting as a phytoestrogen or plant-based estrogen. This means it can bind to estrogen receptors in the body and produce similar effects as the hormone with fewer side effects such as bloating and weight gain.
Commiphora Mukul helps reduce mood swings and other symptoms of premenstrual syndrome (PMS).
Some Home Remedies to Boost Feminine Wellness
You can fight fatigue and increase your energy levels by making some small changes to your daily routine.
If you often feel tired during the day, it might be time to make a few changes to your bedtime routine. Try going to bed earlier and making sure you get your daily dose of morning sunshine.

Stress can drain your energy, but you can stay refreshed by minimizing sources of stress in your life.

If you lead a sedentary lifestyle and are feeling low on energy, try some regular exercise—like walking, running, or cycling. You'll be surprised to see how much energy it gives you.

Smoking can make you feel tired and reduce the efficiency of your lungs. Quitting smoking will make you feel more energetic as well as healthy. 

Following a healthy diet can help you feel more energetic and maintain your health. Eating regularly and eating enough can boost your energy levels.

When you're dehydrated, you may feel tired or find yourself lacking in energy. Make sure to drink enough water throughout the day, especially when you are exercising.

Taking supplements can be an effective way to feel more energetic. Make sure to choose the right supplements that have no added chemicals. 
How Female Vitality can Benefit You
Female Vitality is a natural herbal supplement that contains a unique combination of herbs mentioned above. It's designed to revitalize your body, so you feel more vital and energetic throughout the day.
Female Vitality is considered the best female health tonic, which may help you feel less stressed, anxious, and despairing without causing any negative side effects.
Santhigram's Female Vitality is made in the U.S.A., contains no pesticides, heavy metals, or fillers, and is certified under Good Manufacturing Practices (GMP). It is available HERE.
Final Words
We hope you found our list of herbs for female vitality helpful. As always, it's essential to consult with your doctor before starting any new supplement regimen.
Click here to buy our Female Vitality Supplement