An Ayurvedic Approach to Ease Your PMS Symptoms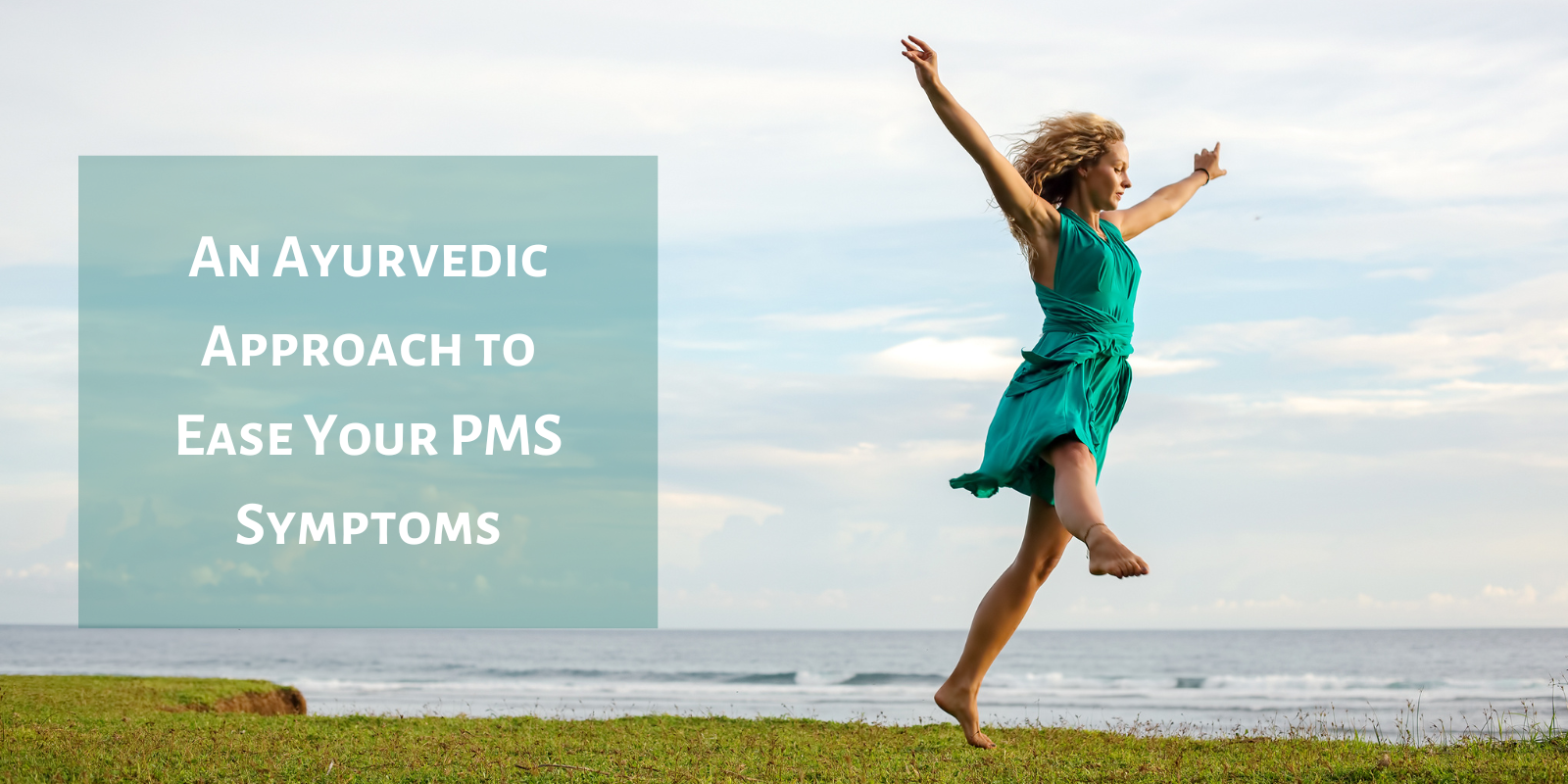 Do you experience extreme mood swings and irritability before your period starts? Is PMS affecting your life?
PMS (Pre-Menstrual Syndrome) is a series of symptoms that begin a few days before and stop with the start of your menstrual cycle. It causes extreme distress in some women, lowering their quality of life. According to research, 20% of women around the world suffer from serious symptoms that interfere with their daily lives. If you're one of them, you should seek treatment to alleviate your symptoms that can enhance your quality of life.
You don't have to let PMS symptoms take over your life. Certain medications, supplements, natural remedies, and lifestyle changes can help you to ease your premenstrual syndrome to a great extent. Let's talk about PMS symptoms and how herbal remedies might help you feel better. 
PMS Symptoms
Many women experience a wide variety of physical and emotional symptoms during their periods. Some of the most common physical symptoms include bloating, breast tenderness, acne, abdominal pain, and diarrhea. Some emotional symptoms include mood swings, anxiety, depression, and insomnia.
If you have severe PMS symptoms, this condition is also called Premenstrual Dysphoric Disorder (PMDD), which requires medical attention. PMDD is referred to as having significant PMS symptoms paired with a high level of irritability and anger that interferes with everyday functioning and quality of life.
Causes of PMS
What causes PMS is still not fully understood. Many specialists believe that hormonal abnormalities, such as progesterone, released in the second half of the menstrual cycle, are to blame. On the other hand, genes and environmental variables also play a role.
When to Look for Help
If you are unable to manage your PMS symptoms with lifestyle modifications and if the symptoms are worsening, you should look for help. It may lead to severe depression and extreme emotional agony when left untreated, affecting your personal and professional life.
Do not ignore PMS symptoms; get professional assistance to address your worries and improve your quality of life.
How to Manage PMS
Generally, medications like SSRIs, oral contraceptives, gonadotropin-releasing hormone (GnRH) agonists, nonsteroidal anti-inflammatory medications (NSAIDs), or diuretics are recommended to treat severe PMS symptoms. But these medicines may lead to various side effects, especially when used long-term.
According to recent research, there is a significant link between diet choices and PMS. The research also indicates that vitamins and minerals, including vitamin B, vitamin D, magnesium, and calcium, are required for neurotransmitter production and hormonal balance. Supplementing with vitamins and minerals may help to relieve PMS symptoms.
It is also believed that some herbal remedies or supplements may help to alleviate PMS symptoms. Herbal therapies for premenstrual syndrome and premenstrual dysphoric disorder demonstrated a 50% or superior reduction in symptoms. Also, these herbal supplements are considered safe and effective. 
There are a variety of herbal supplements available in the market, but you must be careful to select one of good quality. Do check the label for ingredients and quality control to make the right choice. Female Vitality is one such herbal solution made of precious herbs that are supported by scientific studies. It is benefitting many women to live more satisfying lives by alleviating PMS symptoms.
Herbal Remedies for PMS - Female Vitality
Female Vitality is an Ayurvedic solution made of handpicked herbs to relieve period cramps, mood swings, low energy, loss of libido, and amenorrhea. This nutritionally dense herbal medicine is designed to help you improve your PMS symptoms while also supporting a healthy libido, cholesterol levels, mood swings, and more.
Female Vitality Supplement - How it works
Female Vitality mainly consists of herbs like Asparagus Racemosus, Tribulus Terrestris, Curculigo Orchioides, Withania Somnifera, and Commiphora Mukul. Let's take a closer look at the properties and benefits of these herbs.
Asparagus Racemosus or Shatavari
Asparagus Racemosus, also known as Shatavari, is a herbal plant native to the Himalayas in India. It is used to treat dyspepsia, constipation, stomach spasms, and stomach ulcers. 
Scientific studies have revealed that Shatavari improves female reproductive health complications by addressing hormonal imbalances. It is recommended for polycystic ovarian syndrome (PCOS), follicular growth and development, oocyte quality, and infertility. It is believed to reduce oxidative stress levels and increase antioxidants in your body. Shatavari improves female reproductive health and is widely used in Ayurveda for its various benefits.
Benefits of Shatavari;
Shatavari is a wonderful herb renowned as the "Queen of Herbs" in Ayurveda because it fosters love and devotion. Shatavari is the major Ayurvedic female rejuvenation tonic. Its benefits include;
A great adaptogen that helps to counteract depression

Has antioxidant properties

Helps manage stress and inflammatory condition

s
In Ayurveda, Shatavari is considered a female tonic. It is a revitalizing herb that also helps in female infertility by increasing libido and reducing sexual organ inflammation.
Tribulus Terrestris
Tribulus is an ancient medicinal plant that grows mainly in Africa, Asia, Australia, and Europe. Its extracts are used for their diuretic, tonic, and aphrodisiac qualities. According to preliminary scientific findings, Tribulus is commonly used by athletes as a supplement to boost physical performance.
Tribulus is also believed to help in treating sexual dysfunction in women. Hence, using the Tribulus supplement can help you enhance your sexual functions. 
Benefits of Tribulus:
Helps alleviate

depression and anxiety

May boost your energy and performance

Helps improve your immunity and ability to fight inflammation

May enhance your sexual performance
Tribulus is a safe supplement when taken in the proper dosage and form. Female Vitality is a unique supplement created by Ayurvedic professionals with the right dosage of each herb to help you achieve your goals. This supplement can help you live a better life by reducing the problems associated with PMS and low energy.
Curculigo Orchioides
Curculigo Orchioides, also known as "Kali Musli," is an herb with multiple benefits. The plant belongs to India and has a special place in Ayurvedic medicine as a strong adaptogen and aphrodisiac. Well known for its immunomodulatory and rejuvenating effects, it is also believed to have beneficial properties like;
May improve sexual performance or act as an aphrodisiac

Help boost your stamina
Scientific researchers also justify the use of Curculigo Orchioides in traditional Indian medicine for its various health benefits. It revitalizes and rejuvenates your reproductive system, naturally promotes blood circulation to sexual organs, activates reproductive enzymes, and balances your mood.
With the best extracts of Curculigo Orchioides, the Female Vitality supplement is meant to help in treating PMS-related health problems. 
Withania Somnifera
India's Withania Somnifera is a mother of alll herbs. It's a woody plant that goes by the names of "Indian ginseng" and "winter cherry." In Sanskrit, it's called Ashwagandha. It has excellent medicinal properties and being an adaptogen it has properties such as anti-inflammatory and antistress.
Ashwagandha appears to be a promisingly safe and effective traditional medicine for controlling chronic stress.  By helping with anxiety it improves your sleep and memory functions. 
Ashwagandha balances essential hormones, thus promoting fertility in women. It brings significant improvements in the quality of life among women. 
Ashwagandha helps to relieve stress by reducing cortisol levels. It is used in Ayurvedic medicine to treat stress, tiredness, and body aches. It helps reduce the effects of hormonal imbalance by supporting adrenal gland function. It even increases blood flow, boosts your fertility, and regulates your period.
Commiphora Mukul
Commiphora is most prevalent in northern India. The tree produces a balsamic-smelling yellowish resin known as gum guggul or Guggulu. Its anti-inflammatory properties have been demonstrated to help with a variety of health problems. 
Why You Should Consider Female Vitality Supplement 
Female Vitality is the perfect blend of all the above-mentioned herbal supplements. With a unique combination of herbs, it is believed to relieve PMS symptoms, revitalize your vitality and strengthen your immune system. It's designed to fuel your body by injecting a dose of vitality into your day, giving you all-day radiance.
Take control of your life, and don't let PMS symptoms keep you from living a happy life. Female Vitality may help relieve stress, despair, anxiety, and stomach pain without causing any negative effects. 
Female Vitality is an excellent PMS relief supplement that will help you to revitalize with a blend of all-natural herbs that can enhance your life.
Female Vitality may;
Help improve your immune system

Fight inflammation

Boost your energy and performance

Enhance your sexual performance
Female Vitality, a premium blend of high-quality herbs with all-essential nutrients, straight from ancient Ayurveda, will help you address many of your PMS problems without any negative side effects. It's worth a try. 
Santhigram's Female Vitality is made in the U.S.A., is gluten-free, and contains no pesticides, heavy metals, or fillers. It is manufactured in facilities that are compliant with FDA regulations and certified under Good Manufacturing Practices (GMP).  
Click here to buy our Female Vitality Supplement.